Here at Blue Planet, we think curved aquariums are a growing trend. The curvature in the glass offers a unique perspective, and the curve can help the aquarium fit better in unusual spaces. Here's a list of our favorite curved aquarium installations.
400 Gallon Aquarium with Curved Corner
This client had a curved wall in their new office build out and thought, if at all possible, could a wall of the aquarium be curved to match that wall?
Well of course it can!
800 Gallon Aquarium with Curved Corner
In fact, the previous aquarium mentioned is what we termed as a junior version of a client's tank in the Federal Reserve Bank.
160 Gallon Concave Aquarium
Another curved example and example of the "nano aquarium" craze was a featured installation from a few months ago, a 60 gallon bow front.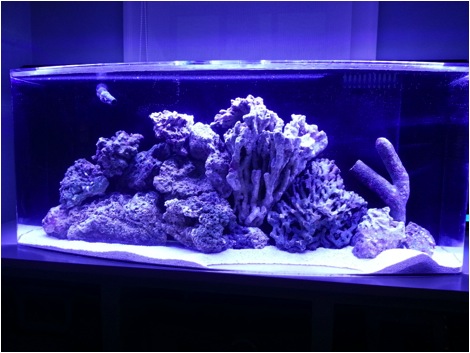 Wave Tank
This curved aquarium is a bit too drastic for my liking but serves as an example of what can be done. 
Half Round Aquarium
The classic "half round" aquarium is a striking example of excellent use of space and without any seams, leaves a unimpeded viewing area.
180 Gallon Bow Front Aquarium
This is a 180 gallon bow front aquarium. Less costly than a half round, as the bend of the front material is not as extreme but the soft curve along the front panel lends itself to the room and stands out more than a standard rectangle. 
60 Gallon Bow Front Aquarium
When I first spoke to this client, he mentioned wanted a concave aquarium. I thought he was just confusing the two and wanted a standard bowfront or convex aquarium, but oh no! He talked about how he was getting a new television which is concave like a movie theater and wanted the aquarium to match that. Incredible and the first I've ever done in all my years!
2 Half Round Aquariums  at Staircase
This was a neat project for a new home build featuring two half round aquariums in the grand entrance. Each aquarium sits at the entrance of winding staircases that lead to the upper and lower levels of the home.
120 Gallon Curved Corner and Bowfront
This custom installation featured what looks like a standard bow front aquarium . However, a standard bow front simply has a back, two sides, and a soft curve on the front panel. This aquarium has sides that are bent rather than seamed and are the same piece of material as the front bow.
150 Gallon Cylinder Aquarium
The classic cylinder aquarium. Really, there is no better option for the "viewable 360" aquarium than a cylinder.

As you can see, curved surfaces can really add a lot of visual interest to an aquarium. For your next aquarium project, consider adding a curve!