A quick glance at our portfolio shows we have done a lot of work in our fifteen year career. This is a quick look at some of my favorite rehabs or installations from over the years.
1. 1500 gallon saltwater aquarium – read more about this in this month's Featured Installation!
2. 260 gallon reef aquarium. A client of over 10 years ordered this custom aquarium 3 years ago when his business bought a new building and his under 100 gallon aquarium wasn't going to cut it anymore!
3. 300 Gallon Room Divider in a seafood restaurant. This wasn't one of our installations, but a rehab we saved. When I went out for the initial consultation I looked all over for the aquarium and couldn't find it. When approached by the general manager, I asked "Where's the tank?". He responded, "You're standing in front of it." It was so bad looking they actually wrapped it in butcher's paper so nobody would have to look at it. We made it absolutely incredible. Then they stopped paying their bills for service. I see a theme here unfortunately.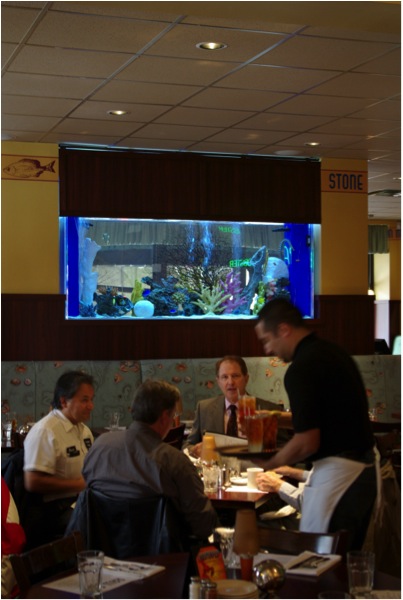 4. Five Freshwater aquariums in a Chicago Public School specifically focusing on the needs and education of children with a range of disabilities. When I first met with the principal she talked about how the kids enjoyed the couple of tanks they had. After adding a few more, they are a focal point of the school, and the students love them.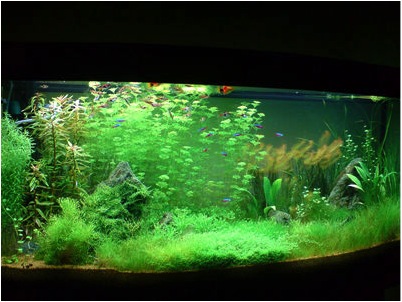 5. 800 Gallon hexagon aquarium in a funeral home. When I was first called out to take a look at this tank, I thought, what better place for an aquarium? The problem was the tank was a disaster. There was a custom coral built in the center that couldn't be seen because of the algae, and the water was so brown one couldn't see through the other side. There was one lone puffer fish, hovering at the top of the tank and clinging to life. To this day, I can remember seeing "help me!" in his eyes. We did. The tank needed a complete overhaul including adding filtration, lighting, chillers, and other equipment. Less than a year later, the tank was crystal clear and teeming with life.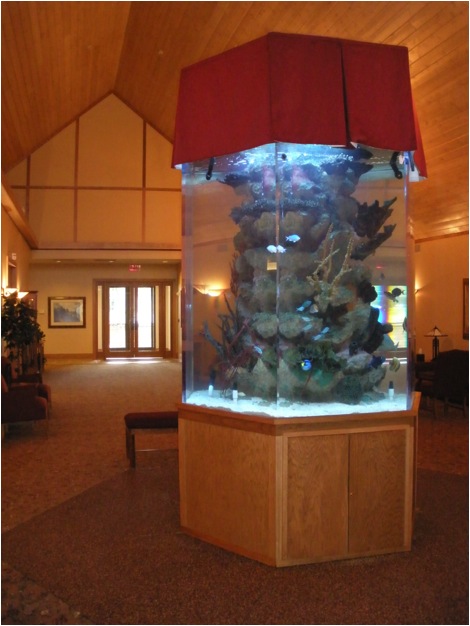 6. 600 gallon in-wall aquarium. This was a rehab project we were called into after someone else's failed installation. When I first came out to look at this tank it was bright green. I mean bright. And green. Everything was: the water, the glass, the décor, if the fish stopped swimming for a minute they probably would have gotten covered too. We had to make a few modifications to the filtration to better support fish, had a skylight tinted, made changes to lighting, and started pre-filtering the tap water along with adding a phosphate removal system. And voila! Stunning! Until of course they stopped paying their bills for service and I haven't seen the tank in years. You're welcome.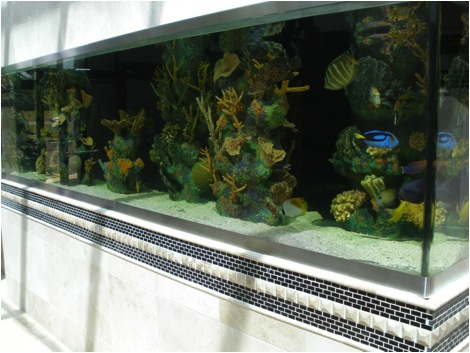 7. 115 gallon pentagon aquarium in wall. One of our oldest customers, what I like most about this tank is the simplicity. There was a very limited amount of space in a wall to get a tank in and none in the waiting area. We got the most tank possible for a limited space. It is and has always been a simple, perfect, happy saltwater aquarium.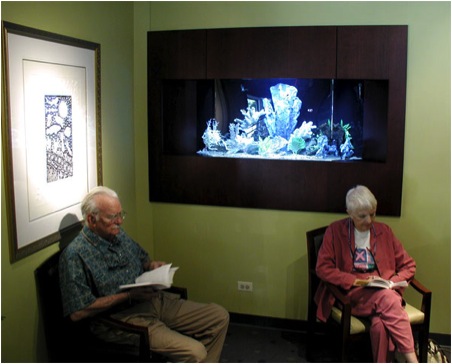 8. 260 gallon bow-front reef aquarium. These folks were actually referred to us from the #7 spot over 10 years ago, but when we first came out to take over service we found one seriously ugly aquarium. The 80s called and no, they do not want their aquarium back. When they moved to a new facility we got them an entirely new aquarium and cabinetry that looks amazing to this day.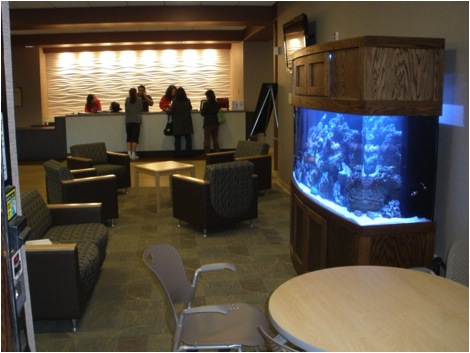 9. A 575 gallon aquarium donated by Blue Planet Aquarium Services for an absolutely unbelievable school with an awesome story. Watch the video for more information, really a great story.
10. When you have been in business for just about a year and you get a phone call saying, "This is the Shedd Aquarium, we're working as consultants for a client who is looking to buy a rather large custom aquarium and wanted to see if you would like to bid on it". Well, that pretty much makes your day, week, month, or whatever. Making things even better was the fact that out of more than a half dozen competitor's bids, he chose us! After 14 years, I'm amazed at how incredible this aquarium still is. I love this tank.