Not many people know that the colors that come into fashion one season or the next won't just happen at random — companies like Pantone actively follow trends, and track where all kinds of design industries are headed. Their color reports throughout the year identify trending tones you'll see in fashion, interior design, graphic design and more.
Their newest Spring 2017 Fashion Color Report may say "fashion," but it's a great unexpected source for aquarium color inspiration.


This spring's colors are a mix of natural tones and flashy brights, which inspired us to imagine how this could be incorporated into an aquarium.
LED Lighting
LED lights are pretty much available in any color imaginable, and can completely shift the mood of your aquarium. Combinations of the bright Flame, Pink Yarrow and/or Primrose Yellow could create a fun, lively and tropical feel to an aquarium. On the other hand, the array of blues could be used more subtly in lighting to create a more serene look.
Theme Your Coral Life
For less artificial incorporation of color think corals. We often use coral to add a pop of color in our projects, and with a little more strategic selection, you could easily recreate some of the color combination and themes seen in the report.  

Get Creative with Fish Selection
Of course the number one motive in choosing fish for your tank should be to select species you can care for and provide a safe and healthy environment. However, your fish in themselves are living, swimming art. Seeing some of the bright colors in this report reminds us of all types of tropical fish. Think neutrals in the coral and brights in the fish, and you're already following the earthy meets bright theme of the color report.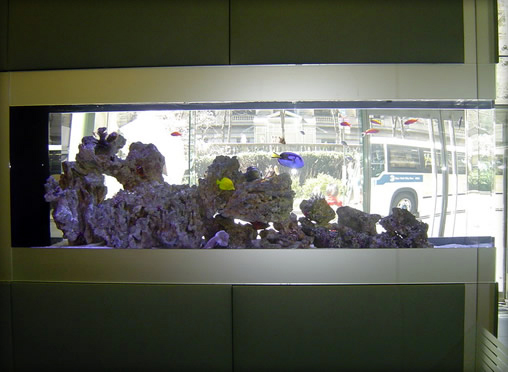 Not a color person? It's our job to stay on top of the latest aquarium trends, and also to know what products are available in the marketplace. Reach out to us for some help on the design or redesign of your aquarium.